Team GPF/Babbitt's/Monster Energy/MMCR/Kawasaki Las Vegas AX Race Report
The final round of the 2017 Amsoil Arenacross series took place Friday night in Las Vegas for the east/west shootout finale. Lites West rider Ryan Breece came into Vegas tied for he points lead while Lites East rider Jacob Williamson sat second in points 14 points out of first.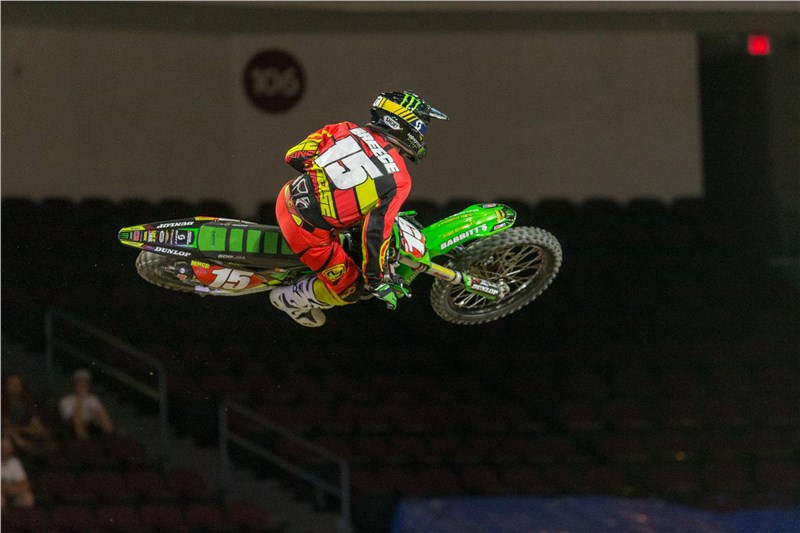 Both GPF riders stared off the day well qualifying first and second. They also qualified well in their respective heat races with a first and a second. It was then on to the main event where some championships would be determined.

West rider Ryan Breece started second and quickly passed for the lead on lap one. Ryan would be passed by Jacob Williamson and the two opened up a gap on the field. By the half way point of the race it was clear that Breece would not be denied the championship so he backed down his pass and cruised to the finish for a 3rd which would give him the Arenacross Lites West championship.

East rider Jacob Williamson had his own championship to contend for so after going from 3rd to 1st early in the race he dominated the field winning the race by half a lap. Unfortunately he would come up short in the Lites class championship to Justin Cooper.

Jacob Williamson also rode the AX class in Vegas and showed the field he belongs there in 2018. Jacob went 4-4 in the two AX class main events for 4th overall. His best overall finish in the AX class this season.

That's a wrap on the 2017 Arenacross series. Want to thank all of the people who helped the GPF team this season and we hope to continue our relationships with you in the future.