Inventory
2022 KTM 250 SX-F FACTORY EDITION
2022 KTM 250 SX-F FACTORY EDITION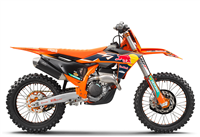 Description
With only 400 units being made available, the 2022 KTM 250 SX-F FACTORY EDITION is an exclusive racer built to the highest specifications. It is the ultimate mid-class racer for anyone looking to dominate their season, at club or national level. Hell, we'd even wager on it in the big leagues. Featuring all-new design and top-shelf componentry across the board, this is the undisputed new class leader.
Specifications
ENGINE
CLUTCH
Wet multi-disc DS clutch, Brembo hydraulics
DESIGN
1-cylinder, 4-stroke engine
CHASSIS
WEIGHT (WITHOUT FUEL)
101.9 kg
TANK CAPACITY (APPROX.)
7.2 l
FRONT BRAKE DISC DIAMETER
260 mm
FRAME DESIGN
Central double-cradle-type 25CrMo4 steel
FRONT SUSPENSION
WP XACT-USD, Ø 48 mm
REAR SUSPENSION
WP XACT Monoshock with linkage
STEERING HEAD ANGLE
63.9 °
SUSPENSION TRAVEL (FRONT)
310 mm
SUSPENSION TRAVEL (REAR)
300 mm
Features
ENGINE & EXHAUST
ENGINE The 2022 KTM 250 SX-F FACTORY EDITION is powered by a 14,000 rpm, 47 HP powerhouse, that weighs a mere 26.11 kg. The engine has been rotated 2 degrees backward, resulting in a 3 mm lower front sprocket position, along with a reduced engine height of 8mm for improved mass centralization, lower weight, and improved anti-squat behavior. All major components and shaft arrangements have been carefully engineered to best suit the performance and handling characteristics of the overall package, once again making this the 250 four-stroke to beat.
CYLINDER HEAD Featuring a completely redesigned DOHC cylinder head, the 2023 KTM 250 SX-F FACTORY EDITION is a true 14,000 rpm performance monger. With the cylinder head featuring DLC coated finger followers, titanium valves - 32.5 mm intake, 27.5 mm exhaust - and an all-new, lightweight valve cover with fewer screws for easier service, this is a new benchmark in the 250 cc class.
CYLINDER AND PISTON At the heart of the KTM 250 SX-F FACTORY EDITION is an all-new 81mm bore and 48.5 stroke cylinder housing a forged bridged-box-type piston made by CP. Both the cylinder and piston are engineered from high-strength aluminum resulting in outstanding performance and reliability, while an increase in compression to 14.5:1, adds more torque and mid range power to the mix.
CRANKSHAFT The KTM 250 SX-F FACTORY EDITION has a rigid crankshaft and a connecting rod that features a plain big (bottom) end bearing with two force-fitted bearing shells running directly on the crank pin. This design was essential for the extremely high engine speeds and unrivaled maximum power of the 250 cc 4-stroke engine. The design also enhances the engine's durability, allowing for longer crankshaft service intervals, which is a huge benefit in terms of time, effort and cost.
CRANKCASES AND ENGINE COVERS All-new engine cover designs feature a textured surface for greater wear resistance and a slick new look thanks to its black finish. A high-pressure die-cast production process keeps the overall weight to a minimum, but optimizes mass-centralization and increases efficiency. A new steel oil pump gear and repositioned oil jets increase the overall oil pressure, resulting in improved overheating resistance and durability.
TRANSMISSION This new 5-speed transmission by Pankl Racing Systems is designed to be extremely light and durable while featuring a 250cc specific ratio of 24:72. A redesigned shift shaft and shift forks with a low-friction coating make for smoother, slicker shifting. But for really fast up-clicks, a new Quickshifter sensor allows clutchless upshifts and can be toggled on or off via the new QS handlebar switch. A new gear shift lever design also prevents dirt build-up and keeps the lever tip in its original position even in the toughest conditions.
ENGINE MANAGEMENT SYSTEM A state-of-the-art KEIHIN engine management system, with electronic fuel injection and 44 mm throttle body, ensures fuel is used as efficiently as possible with maximum power as a result. The injector position guarantees optimal atomization of the fuel and air on the way to the combustion chamber, resulting in instant throttle response and thanks to the repositioning of the air filter box, more mid-range grunt too.
BALANCER SHAFT To balance the mass forces the KTM 250 SX-F's engine produces, it's fitted with a multifunctional balancer shaft, which effectively reduces vibration, while driving the water pump and timing chain. Now that's multitasking.
CLUTCH The 2023 KTM 250 SX-F FACTORY EDITION features an updated DDS clutch, a single diaphragm steel pressure plate instead of traditional coil springs, and an integrated damping system. The clutch basket is CNC milled from a single block of steel that allows the use of thinner steel liners and is a major contribution to the compact engine design. The benefits? Better traction and durability, improved clutch cooling, reducing clutch fade and heaps of gains in the trophy department.
E-STARTER The standard electric starter on the KTM 250 SX-F FACTORY EDITION uses a proven starter drive and a strong starter motor made by Mitsuba. As demonstrated time and time again, it provides quick and reliable starting, saving you precious time and energy when you need it most. A new, combined start/stop switch on the right side of the handlebar allows for easy and intuitive firing up.
COOLING Just like a championship contender, a high-performance race weapon also needs to stay cool under pressure. Thankfully, a set of radiators ideally positioned for a lower center of gravity, ensure this machine keeps it's cool. By using computational fluid dynamics technology together with a clever cooling circuit routing, the innovative system ensures the optimum engine temperature for the highest performance, no matter what the conditions.
EXHAUST When it comes to power delivery and performance, the exhausts on all KTM SX-F FACTORY EDITION models feature a model-specific header with an advanced Flow Design resonance chamber and a short, compact aluminum silencer that stays well within noise regulations. The header joining position and new, standardized mounting points and screw lengths across the 4-stroke exhaust systems design also allows the exhaust to be disassembled without removing the shock absorber, saving time in the pit lane, and gaining it out on the track. In this case, we'll let the sound do the talking.
CHASSIS
CHASSIS Few sporting disciplines are as demanding on man and machine as professional supercross with riders experiencing G-forces of up to 14Gs multiple times a race. The KTM 250 SX-F FACTORY EDITION chassis takes this into account and focuses on improved energy absorption, getting the power down more effectively, and improving overall acceleration. In other worlds, it make it easier for rider to go faster.
FRAME Made from hydro-formed, laser-cut steel, and engineered to cope with the exceptional stresses of competitive supercross, the frame is designed to offer unmatched rider feedback and high-speed stability. New parallel frame mounts improve flex characteristics, while the topology-optimized frame wall thickness improves rigidity and high speed stability. The frame is finished off in a high-gloss orange powder coating and comes fitted standard with frame protectors, featuring a new and improved texture for superior protection, durability, and grip.
SUBFRAME Featuring polyamide-reinforced aluminum construction, this 2-piece subframe reduces the overall subframe weight to only 1.815 kg. Although lightweight, it is remarkably robust with a specifically engineered rigidity delivering outstanding handling and feedback. Cast aluminum lower subframe spars and frame mounts add extra stiffness.
SWINGARM An all-new hollow, die-cast aluminum swingarm has been developed alongside the frame. Designed to offer optimal stiffness and reliability at the lowest possible weight, the topology has been optimized for optimal rigidity while an improved casting process reduces weight by 190g. A new 22mm rear axle is also fitted to further complement flex characteristics. The design also works to reduce mud build-up and offers easy chain adjustment with markings visible from above.
SUSPENSION When it comes to getting power to the dirt, the suspension plays a critical role. The KTM 250 SX-F FACTORY EDITION boasts a revised WP XACT front fort with an all-new WP XACT shock absorber resulting in dramatically improved anti-squat and rebound performance and better acceleration after landing. What all this means is, this rocket of a racer gets its power down like a nuclear substation.
FRONT SUSPENSION Revised and reworked for 2022, the KTM 250 SX-F FACTORY EDITION's 48 mm WP EXACT front forks with AER technology feature a capsulated air spring and pressurized oil chamber for progressive and consistent damping. New hydrostops in the fork legs improve bottoming-out resistance and have less rebound, improving progressive damping in the last 40mm of travel. Redesigned fork protection rings also increase protection against dirt intrusion, meaning longer lasting fork seals. They're also easily adjustable thanks to handy clicker dials. Heel-clickers on the other hand are totally optional.
TRIPLE CLAMP Made from high-grade aluminum and boasting full-factory anodized credibility, the adjustable CNC milled Factory Racing triple clamps are tuned to offer optimal steering stem stiffness and pin-point perfect fork alignment and geometry. These together with newly designed, topology optimized bar mounts, provide increased bar grip resulting in less bar twist at no additional weight. Additionally, they allow for both rubber damped and fixed mounting options providing customizable vibration control and handlebar flex.
REAR SUSPENSION An all-new and fully-adjustable WP XACT SHOCK design results in a myriad of benefits. Firstly, it's shorter and lighter than before but leaves suspension travel unchanged at 300 mm. A new CFD optimized main piston improves initial comfort and resistance, while differently sized flow holes allow the shims to open more easily and reduce the overall pressure. Adjustments are also easy thanks to a hand-adjustable dual compression control allowing high and low-speed settings by hand, This is flanked by a new preload adjuster and a new two-piece spring retainer that allows for quick mounting without splitting the shock.
WHEELS They'll see you rollin' and they will be hatin'. High-strength DID Dirt Star rims finished in gloss black with laser engraved logos are coupled to orange CNC milled hubs, lightweight black spokes, and aluminum orange anodized spoke nipples. Speaking of which, the nipples incorporate an advanced low-maintenance design which reduces the frequency of spoke checks. On the outside, Dunlop GEOMAX MX33 Motocross tires, feature the proven "block-within-a-block" design for unmatched grip and superior berm-slaying corner hauling.
BRAKES Those who brake hardest, go fastest. Thanks to range-topping Brembo stoppers at both ends, the KTM 250 SX-F FACTORY EDITION can stop and turn like a cheetah on the hunt. Braking comes courtesy of a 220 mm solid rear brake disc and a 260 mm semi-floating front brake disc featuring a new polyamide composite front disc protector for added protection.
FUEL TANK An all-new 7,2-litre polythene fuel tanks incorporate a threaded fuel tank cap and an integrated one-piece fuel pump and filter for improved fuel supply. The fuel pump also allows for the tank to be emptied further down, which means longer ride times. The benefit? Less time worrying about refueling and more time focusing on the win.
AIRBOX Designed to offer maximum airflow at minimum effort, the air filter box has precisely positioned inlet ducts aimed at preventing air deformation when you get on the power. The air filter is also easily accessed without tools, simply by removing the left side panel, making for quick and easy maintenance. Best of all, the Twin Air filter and air filter support design ensures a simple fail-proof mounting system for safe and accurate filter installation. Need more air? A vented air filter box cover comes included.
ERGONOMICS & COMFORT
FOOTPEGS An all-new die-cast footpeg design offers a larger surface to step on while being less susceptible to hook on deep ruts, take-offs when scrubbing, or track barriers, while ensuring riders maintain full control in any track condition. This is thanks to a new mounting concept integrated in the frame design which also saves weight, with less chance of clogging up.
SEAT It doesn't get more factory than this. Featuring a flat seat profile with the race-proven Selle Dalla Valle high grip seat cover, the KTM 250 SX-F FACTORY EDITION awards riders with exceptional control - even when covered in mud. A recessed grip pocket under the seat, just above the air filter box, makes it easy to move the bike around, but also highlights the lightweight character of the SX-F FACTORY EDITION range.
HANDLEBAR When it comes to banging bars and getting the elbows out, the KTM 250 SX-F FACTORY is equipped with high-strength NEKEN handlebars with a proprietary KTM bend and ODI grips that deliver optimal control. A newly designed KTM branded handlebar pad also guards against any unwanted impacts, and features the same design patterns as seen on the frame protectors and tank spoilers.
BODYWORK & GRAPHICS
DECALS There is no mistaking the KTM 250 SX-F FACTORY EDITION for anything else at the starting gate. With a full-factory racing look and high-tech in-mold application, sponsor logos and graphic design elements are sure to stay put - even after a full season of hard racing.
SOFTWARE & ELECTRONICS
MAP SELECTION A new map select switch comes standard on the KTM 250 SX-F FACTORY EDITION and takes care of launch control, engine mapping, Quickshifter and activates traction control - on the fly. Map 1 produces a more linear power spread for tricker conditions, while map 2 unleashes the full READY TO RACE experience with sharper throttle response and explosive power delivery for all-out battles.
LAUNCH CONTROL Some may call it an unfair advantage. We call it being prepared. Launch control is easily engaged by holding down the traction control and Quickshifter buttons at the same time. This limits the amount of power to the rear wheel - ensuring maximum traction - and ensures you rocket off the line when the gate drops.
TRACTION CONTROL Traction control gets the power to the dirt in the most efficient way possible, by analyzing throttle input from the rider and the rate at which RPM increases in the engine. If the RPM increases too quickly, the EMS registers a loss of grip and reduces the amount of power to the rear wheel, which ensures maximum traction. This offers racers distinct advantage in wet or muddy conditions.
QUICKSHIFTER The new Quickshifter function can be activated or deactivated via the new map select switch, and allows riders to make clutchless upshifts. The function works by interrupting the ignition for a fraction of a second, letting you click in the next gear quicker and smoother. To prevent unintended shifts and false neutrals, the function is only active between 2nd to 5th gear, meaning the only thing you'll be clutching - is the win.
All inventory listed is subject to availability and prior sale. Manufacturer's Suggested Retail Price (MSRP) if shown for a vehicle excludes set-up, freight, taxes, title, licensing or other dealer charges, and is subject to change. Individual prices may vary. Please request a quote for specific pricing.