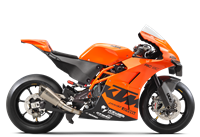 Description
The KTM RC 8C is an ultra-lightweight, bespoke track weapon designed with one simple purpose - to decimate lap times and stamp orange authority on the starting grid. With only 100 of these rare weapons going into production, the KTM RC 8C is a highly limited, unique motorcycle aimed at a special type of rider who knows how to get his, or her, elbow down.
Specifications
ENGINE
CLUTCH
PASC™ antihopping clutch, mechanically operated
DESIGN
2-cylinder, 4-stroke, parallel twin
LUBRICATION
Forced oil lubrication with 2 oil pumps
CHASSIS
TANK CAPACITY (APPROX.)
16 l
FRONT BRAKE DISC DIAMETER
290 mm
REAR BRAKE DISC DIAMETER
230 mm
FRONT BRAKE
2 x Brembo Stylema Monobloc four piston, radially mounted caliper
REAR BRAKE
Brembo twin-piston floating calliper, brake disc
FRAME DESIGN
Chrome-molybdenum steel tubular space frame, powder-coated
FRONT SUSPENSION
WPXACTPRO7543
REAR SUSPENSION
WPAPEXPRO7746
STEERING HEAD ANGLE
66.7 °
SUSPENSION TRAVEL (FRONT)
120 mm
SUSPENSION TRAVEL (REAR)
120 mm
Features
CHASSIS
NO COMPROMISE The KTM RC 8C is developed and built in partnership with Krämer Motorcycles, around a no-compromise, hand-built racing chassis with a 100% track-focused objective. With one eye on all out performance and the other on usability, this 140 kg machine is truly without equal.
FRAME Developed without compromise for the racetrack, the KTM RC 8C features a Chromium-molybdenum steel trellis frame, which is precision engineered and hand finished to be ultra-stiff, pin-point precise and lightweight. Like the greatest of race machines, the frame also offers a multitude of adjustment settings.
TRIPLE CLAMP Lightweight, CNC machined triple clamps feature an adjustable offset for tailored rider control. Offset can be set in two positions, 26 and 28 mm, for faster turn-in, improved stability and sniper-like accuracy.
SWINGARM Cast in aluminum and precisely finished in the CNC machine, this bespoke swingarm provides the perfect balance of agility and stability. The swingarm also features integrated crash protection with specially developed aluminum mounting plates which hold the crash pads. This helps protect the swingarm in the event of a fall, allowing the aluminum plates to bend, absorbing the impact and protecting the swing arm.
SUSPENSION At this level of refinement, only the very best WP Pro Components will do. That is why the KTM RC 8C boasts a suspension which is hand assembled in a special department at the WP headquarters - the very same place responsible for the assembly of the KTM RC16 suspension.
FRONT FORK Developed from the expertise gained in through international competition, the fully-adjustable WP APEX PRO 7543 closed cartridge 43 mm front fork features a high level of pedigree. Being specifically developed for racing, it is engineered from high quality, all-aluminum lightweight materials, and has no hydraulic stroke limitation, meaning riders can continually control the damping properties. Individual rider settings can also be finely and individually tuned with the fully adjustable compression and rebound damping and its split design allows for easy damping adjustability at the top of both fork legs.
REAR SHOCK ABSORBER Getting the power to the ground and keeping everything else in check comes courtesy of a fully compression, rebound and length adjustable WP APEX PRO 7746 Shock. And due to precise manufacturing tolerances, the suspension delivers maximum precision and direct feedback all day long.
FUEL TANK The 16 liter fuel tank is integrated into the rear subframe and seat unit, weight centralization is spot on. The tank has also been cleverly developed to be easy to drain, thanks to a click on the fuel line connector. This allows accurate fuel consumption measurements at the track, but also makes draining the tank for transport or maintenance in the pits as easy as blitzing the pack off the line.
PREMIUM COMPONENTRY
RACE PROVEN PARTS The KTM RC 8C is hand-built and boasts factory racing-levels of premium componentry, from Dymag forged wheels, Pirelli Diablo rubber and to the very best items from the Brembo brakes parts bin.
WHEELS Boasting some of the lightest wheels on track, the KTM RC 8C makes use of lightweight Dymag UP7X forged aluminum wheels - 3.5" x 17" on the front and 6 "x 17" on the rear - which ensures optimum acceleration and handling while being suitable for real world use on the track. They're practical too, with a quick change assembly and axle that allows wheels to be swapped out without disassembling the brakes.
FRONT BRAKES Slowing the KTM RC 8C down comes courtesy of Brembo's finest, high performance and lightweight components, namely BREMBO STYLEMA front brake calipers grabbing 290 mm fully floating brake disks with aluminum rotors and titanium brake caliper screws.
MASTER CYLINDER The KTM RC 8C is fitted with an innovative, adjustable Brembo 19RCS CORSA CORTA radial master brake cylinder, with many of the technical solutions adopted directly from the master cylinders used in MotoGP. This means riders can tailor the "bite point" exactly where they want it, with an easily accessible selector on the top of the master cylinder itself, with the NORMAL setting allowing for a more gradual feel, or SPORT which provides a proper, dynamic response and lastly RACE which delivers an immediate bite, just like the pros use. The Brembo 19RCS CORSA CORTA also features the Ratio Click System (RCS) system which lets the rider select a fulcrum-to-piston distance of 18 or 20 mm by simply turning the adjuster screw.
REAR BRAKE Slowing down the back is a BREMBO master cylinder and two piston caliper grabbing a 230 mm fully floating disk mounted directly on the hub, complete with titanium brake caliper screws.
TIRES Full-bore race bikes deserve the very best in race rubber. For that reason, the KTM RC 8C is fitted with Pirelli Diablo Superbike racing slicks as standard. Up front, you'll find a 120/70R17 NHS SC1 and a 180/60R17 SBK SC1 on the rear - with the possibility to upgrade to a 200/55/R17 if need be.
ENGINE
THE LC8C Rocketing the KTM RC 8C off the line is a ultra-potent, lightweight and compact 128 hp 889 cc LC8c engine. If that sounds familiar, it's the same, celebrated powerplant found in the KTM 890 DUKE R, but with more focus on more and drive out of corners. The benefit of using a production engine is easy maintenance and parts availability, without sacrificing on performance.
CRANKCASES The KTM RC 8C's powerplant features high-pressure cast aluminum, horizontally split crankcases. This allows for reduced wall thickness for weight optimization. The open deck cylinders are integrated into the crankcase for a more compact assembly.
PISTONS Thanks to a set of forged box pistons featuring three piston rings each and a bronze conrod bearing with a DLC coated piston pin, the KTM RC 8C KTM RC 8C revs willingly and delivers torque throughout the range. Also, because the pistons make use of a box construction, the piston weight is kept low despite the large bore.
CYLINDER HEAD The 8 valve DOHC cylinder head contains twin chain driven camshafts, a spark plug per cylinder and camshafts that have been assembled rather than forged, making them lightweight. The steel valves - 37mm intake and 30 mm exhaust - are opened by DLC coated finger followers, for smoother operation and the cam chain is tensioned by a hydraulic chain tensioner. It's smooth too, thanks to a secondary balancer shaft which is actuated by the exhaust camshaft, between the two camshafts.
FUEL INJECTION Developed specifically for KTM by Dell'orto, the fuel injection system on the KTM RC 8C features sensors in each throttle body, which measure the manifold pressure and adjust the mixture accordingly per cylinder. Two dedicated engine mappings are available, wet and dry, that can be easily selected from the handlebar.
AIRBOX Unique and developed specifically for the KTM RC 8C, the large airbox which occupies the entire "tank space" between the rider's legs is fed via a ram air intake channeled from the front fairing, while also featuring a dedicated air filter from Twin Air.
SLIPPER CLUTCH Lightweight and pressure lubricated, the slipper clutch on the KTM RC 8C features improved cooling and reduced friction over other units. The slipper clutch opens when the engine back-torque becomes too high, it also assists when you open up the throttle. The former prevents destabilizing rear wheel chatter when braking sharply or decelerating, while the latter reduces the hand force required for changing gear, allowing the clutch to be controlled with the little finger - saving you energy when riding. The clutch is also cable activated for further weight reduction.
OIL SYSTEM Ensuring optimal lubrication, the KTM RC 8C employs a semi-dry sump system, whereby oil is actively pumped out of the crankcase, clutch housing, and gearbox. This ensures that oil does not unnecessarily flow through the engine, reducing friction losses. The oil sump is integrated into the oil pump housing, together with two pumps and a pressure regulating valve.
EXHAUST Providing the bark to the KTM RC 8C's bite, is a bespoke stainless steel racing exhaust with a Akrapovic titanium muffler with a carbon end cap. Equipped with a decibel killer designed to tame the twin cylinder symphony from 105 to 103 dBA, but should local track requirements dictate it, an alternative 98 dBA muffler can be ordered separately.
ELECTRONICS
MISSION CONTROL On the track, data equals speed. The KTM RC 8C makes use of a race-focused, easy to use dashboard with data logging technology which records multiple aspects of your lap. All data is logged into the AIM RaceStudio for easy and concise studying later.
DASHBOARD Taking center mast on the dash area is the 5" TFT-display AIM MXS 1.2 RACE dashboard and data logger with integrated GPS function. The dashboard displays lap times and live information like best laps, fastest sector times and more. More importantly, the data is logged into AIM RaceStudio where riders or race teams can analyze everything from speed, position on track, throttle position and mechanical running temperatures.
SWITCHGEAR Reduced to the bare minimum and solely focused on racing, the KTM RC 8C makes use of race-style switchgear that allow riders to switch between wet and dry mapping, adjust engine braking and engage the pit lane speed limiter quickly, at the press of a button.
QUICKSHIFTER+ Lightning fast shifting is thanks to KTM's proven QUICKSHIFTER + system, allowing racers to click up and down gears without using the clutch lever. This means quicker, more focused shifting, with specific settings unique to the KTM RC 8C.
RAIN LIGHT While you can control most things on the KTM RC 8C, the weather is unpredictable. For that reason, a rain light is easily activated by pressing the face of the light like a button.
BODYWORK
FUNCTION AND FORM The KTM RC 8C is designed and aerodynamically optimized by the same team who designed the KTM RC16 MotoGP racer. Making use of ultra-strong but lightweight GRP with carbon Kevlar reinforced fairings, it is the closest you can get to an out-and-out GP racer.
AERO DYNAMICS The KTM RC 8C makes use of stability winglets, which not only aid in keeping things stable at high speeds, but also act to provide downforce when it's needed most. A swingarm scoop also aids in downforce, as well as providing a significant amount of cooling to the rear tire.
FAIRINGS Constructed from ultra-strong but lightweight GRP, with carbon Kevlar reinforcement, the KTM RC 8C fairings also make use of a quick release design, allowing them to be installed or removed quickly in pit lane.
FRONT FENDER The carbon fiber front fender features a quick release system, as well as an air scoop to channel air over the front wheel and into the radiator for enhanced cooling.
RIDER SETUP
RIDER SETUP In the pursuit of milliseconds, racers hone and sharpen their machines to the closest millimeter. The KTM RC 8C allows riders to do just that, with a multitude of different adjustable components, high-spec parts and lightweight construction. Precision comes standard.
THE RACE TUCK Getting tucked behind the screen down the straight is tantamount to reaching higher speeds. Thankfully, the KTM RC 8C has been designed to allow for the perfect ergonomics, creating the perfect triangle between the footpegs, handlebars and seat. Adjustable clip on handlebars, footpegs and an eccentric subframe mount used to change the seat height make sure there's always apace to get head down, and elbows in.
TUNED DYNAMICS Refined down to the millimeter, the KTM RC 8C can be adjusted to suit any rider or riding style or track. Triple clamp offset, ride height, suspension settings and steering head angle, adjustable by +/- 1 degree in 0.5 degree steps, can all be tweaked to find the perfect balance of dynamics, ready to tackle the demands of the race.
READY TO RACE
RACE PREPARED The absolute pinnacle of READY TO RACE, the KTM RC 8C is 100% race-ready, not only down to top shelf componentry, but also finer details like essential safety wired parts right out of the race workshop.
PROTECTION Pushing the absolute limit, high sides or losing the front end go hand in hand. For that reason, the KTM RC 8C is designed to protect all essential parts in the event of a fall over. Smart design means many parts are inboard, placing them out of harm's way, while others make use of crash protection pads, such as the steering head, frame, forks, fuel tank and swingarm.
BRAKE LEVER PROTECTION The KTM RC 8C features front brake lever protection, which not only provides a small level of protection in the event of a crash, but also protects riders from unintentionally hitting the front brake lever during tight racing situations.
All inventory listed is subject to availability and prior sale. Manufacturer's Suggested Retail Price (MSRP) if shown for a vehicle excludes set-up, freight, taxes, title, licensing or other dealer charges, and is subject to change. Individual prices may vary. Please request a quote for specific pricing.